Impact Thoughts
Where opinions, reflections and recommendations are shared about the issues that impact children, youth, families and education. 
Journalism Fellows Project: Normalizing Safety and Unity, Not Violence
Last year, In Reach partnered with the Washington Regional Association of Grantmakers (WRAG) for the launch of their Journalism Fellows Project, a platform for youth of color in this region who are often written about, but are rarely asked to share their perspectives on the issues facing their communities and families. Youth were asked to write about challenges they are experiencing, and if they have any solutions to offer.
In the June 12, 2019, edition of The Almost Daily WRAG, the official blog of the WRAG, Jailen Fuller shared her thoughts on the community's role in stopping violence in Prince George's County, MD.
---
Why do people have to worry so much about whether or not someone they love will make it home?
Violence is something that has become so normalized in our communities. Daily, we can see how many lives are taken from this earth as a result of it. From gang to domestic violence, people are being brutally murdered over petty reasons.
So many people experience trauma at a young age because of the violence that they see constantly happening around them. While I have not experienced the same trauma as my peers, it has happened to people that I love. I wish that they did not have to experience these things. Though it is simply a reality for many people.
Just two years ago, I lost my cousin to violence. He was murdered and the person who killed him has not been identified. My cousin was still young and had his whole life ahead of him. He had young kids who now will not be able to grow with their father guiding them through the world. Why to some does another person's life mean nothing?  Every life is meant to be cherished. Circumstance should not determine one's worthiness in life. I hope that one day people will not see violence as their only means of living.
This idea that violence is normal should not be passed on to our current growing generation and the generations after us. This will only influence their minds at a young age and the cycle will continue, and our communities will never move forward. Nobody wants to keep seeing another young girl go missing or another young male murdered. As a teenager and especially a young girl, I don't want to fall victim to this or want to see any of my peers lose their lives either. We should be looking forward to a bright future and having that same idea for the next generation.
Growing up, I was pretty sheltered, meaning that I was not always able to play outside and make friends. Now I can understand why I was not able to do these things. So many girls go missing and are either never found or found dead. I would never want my parents to have to go through that. Imagine how many families have to bury their children every year.
We have not fulfilled our duties as a community. To me, a community does not just mean a bunch of houses in a neighborhood, but a sense of unity. We should be looking out for each other and not looking to cause harm over something stupid. Guns, fighting and other sorts of violence should not be the solution to our problems. Youth should be influenced to infuse good into the world because we are our future. It is up to us to decide what we want our future to be. Instead of violence, why not influence each other to be successful and educated?
About the Author:
Jailen Fuller is a 16-year-old African-American young woman entering her senior year at Fairmont Heights High School in Prince George's County, MD. One day she hopes to use her voice to help those who feel like they do not have one.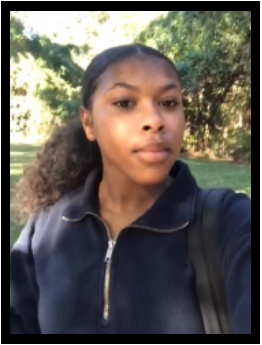 ---
Interested in adding your voice? Submit your article to us at collegeready@inreachinc.org. Include your full name, contact information, and the title of article in the subject line.