Checkout the businesses that supported us!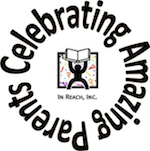 A child's first and most important advocates are its parents. In Reach has created Celebrating Amazing Prince George's County Parents™, an annual event to inspire, recognize and celebrate parents because parenting is a rough job. 

In partnership with the Honorable Ingrid M. Turner, Esq., former District 4 Council Member, and Parks and Recreation (M-NCPPC), Celebrating Amazing Parents is held annually in June. All nominated parents are recognized and three parents walk away with an Amazing Parent Award - the In Reach Amazing Parent Award, the Ingrid M. Turner Amazing Parent Award, or the Parks and Recreation Amazing Parent Award. Each year we search for parents to honor. We envision an event so big that one day it will rival any long established function. Bookmark this page and sign up to be on our In Focus email list to stay up to date. 

Click below to meet In Reach's Amazing Parents.
Nominate an Amazing Parent Today - Parents (and legal guardians) of a child (ren) living in and attending a public school, including charter, or being homeschooled in Prince George's County, Maryland and in grades K-12 are encouraged to submit a nomination. (2016 Nominations Open in March)
Become a Sponsor - Information Available Soon
Purchase an Ad - in the Celebrating Amazing Prince George's County Parents Commemorative Program Journal - it's an excellent way to advertise your business, recognize a parent or acknowledge someone special, the Commemorative Journal will put your message in front of people interested in supporting those whom support them. (Available Soon)