Checkout the businesses that supported us!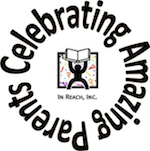 A child's first and most important advocates are its parents. In Reach has created Celebrating Amazing Prince George's County Parents™, an annual event to inspire, recognize and celebrate parents because parenting is a rough job. 

In partnership with the Honorable Ingrid M. Turner, Esq., former District 4 Council Member, and Parks and Recreation (M-NCPPC), Celebrating Amazing Parents is held annually in June. All nominated parents are recognized and three parents walk away with an Amazing Parent Award - the In Reach Amazing Parent Award, the Ingrid M. Turner Amazing Parent Award, or the Parks and Recreation Amazing Parent Award. 

Click below to meet In Reach's Amazing Parents.