The Blog
To amplify the voices of youth, In Reach is adding a new blog to its Teens Talk Network. This new blog will showcase the creative writing and visual arts of youth ages 15-19. We are eager to read and see our first entries. Submit your work for a chance to be one of the first creatives featured and get $ for it. Keep reading.
This Call is now closed. Stay tuned for more information about our first creatives and their awesome work soon!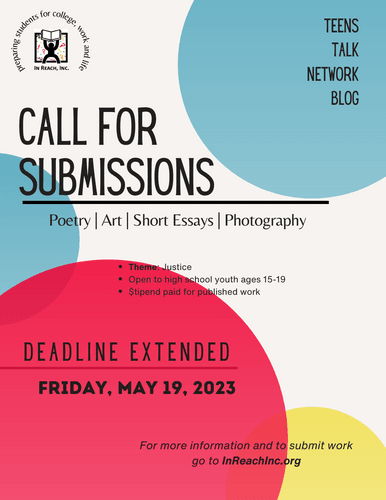 How to Enter
THEME: Justice  
Deadline: CLOSED.
With justice being at the forefront of every conversation today, we are interested in receiving works that demonstrate what JUSTICE means and/or looks like to you. Whether social, health related, environmental, educational, or otherwise, we want you to share how you feel about what is happening around you through your written or visual voice.
WE ARE LOOKING FOR:
•    Short essays (300-500 words)
•    Poetry
•    Art
•    Photography
Acceptable file formats: jpeg, .png, .doc, .docx
In Reach will accept up to two submissions from each person. You may submit one written piece and one visual piece OR two written pieces OR two visual pieces. Be sure to label your work.
STIPEND: 
•    If your work is chosen for publication, In Reach will provide a $75 Amazon Gift Card for each published submission. 
•    Any educator who submits an artifact from their group (in-school or after school) and it is published will receive a surprise. 
WHAT YOU NEED TO KNOW:
•    Open to youth in high school only. 
•    Selected submissions for publication will be announced by Friday, June 9, 2023.
HOW TO SUBMIT: CLOSED.  
QUESTIONS?  Send us an email at collegeready@inreachinc.org.