---
Summer Reading 2023
So many books. So little time. We selected a few with promising titles and descriptions. Now it's up to you to choose. Enjoy!
---
Adulting
A Renaissance of Our Own: A Memoir & Manifesto on Reimagining

By Rachel E. Cargle. May 2023. 256p.
There are breaking points in all our lives when we realize that the way things have been done before just doesn't work for us anymore, be it the way we approach our relationships, our belief systems, our work, our education, even our rest. For activist, philanthropist, and CEO Rachel E. Cargle, reimagining--the act of creating in our minds that which does not exist but that we believe can and should--has been a lifelong process. These defining moments offer a blueprint for how we must all use our imagination--the space that sees beyond limits--to live in alignment with our highest values and to craft a world independent of oppressive structures, both personal and societal.

Yellowface

By R. F. Kuang. May 2023. 336p.
Authors June Hayward and Athena Liu were supposed to be twin rising stars. But Athena's a literary darling. June Hayward is literally nobody. Who wants stories about basic white girls, June thinks. So when June witnesses Athena's death in a freak accident, she acts on impulse: she steals Athena's just-finished masterpiece, an experimental novel about the unsung contributions of Chinese laborers during World War I. With its totally immersive first-person voice, Yellowface grapples with questions of diversity, racism, and cultural appropriation, as well as the terrifying alienation of social media.

Rest Is Resistance: A Manifesto

By Tricia Hersey. Oct. 2022. 224p.
What would it be like to live in a well-rested world? Far too many of us have claimed productivity as the cornerstone of success. Brainwashed by capitalism, we subject our bodies and minds to work at an unrealistic, damaging, and machine-level pace -- feeding into the same engine that enslaved millions into brutal labor for its own relentless benefit. In Rest Is Resistance, Tricia Hersey, aka the Nap Bishop, casts an illuminating light on our troubled relationship with rest and how to imagine and dream our way to a future where rest is exalted.
---
Parenting 
Momfluenced: Inside the Maddening, Picture-Perfect World of Mommy Influencer Culture

By Sara Petersen. Apr. 2023. 320p.
Momfluencers, the social media influencers who focus on motherhood, generate billions of dollars selling their image of perfect motherhood. The author gives us a look behind that "branded" perfection with a carefully researched exploration of the current momfluencer landscape. Interviews with experts and a diverse array of social media mothers help us understand why so many parents turn to social media for support, inspiration, validation, and information. —Jane Harper

Why Fathers Cry at Night: A Memoir in Love Poems, Recipes, Letters, and Remembrances

By Kwame Alexander. May 2023. 240p.
A prolific poet and author of children's literature, Alexander deploys his skillful lyricism to explore themes of failure in family and love in this genre-blending memoir. In narrative poems and short prose chapters, Alexander examines his relationships with his parents, his spouse, and his children with characteristic candor. An epicure at heart, Alexander intersperses recipes throughout the book, including those for 7 Up pound cake and jollof Caesar salad, often pairing recipes with music to enjoy while preparing the dishes. —Diego Báez

The School of Hard Talks: How to Have Real Conversations with Your (Almost Grown) Kids

By Emily Kline. Apr. 2023. 176p.
"The joys of parenting" is often uttered sarcastically, particularly about the dreaded teen years. Kline exhorts parents to enjoy getting to know adolescents, speaking from her expertise as a professor and practicing clinical psychologist. The author, who created the online course this book is named after, explains the underlying causes of hard talk missteps and why some discussions are so difficult before providing an arsenal of tools to invite deeper, honest conversations. —Karen Clements
---
Something for Young Readers 
Nighttime Symphony

By Timbaland. Illus. by Christopher Myers. 2019. 32p. PreS–Gr. 2.
As a bedtime storm rages, an adult reassures a child that the city's sopping sights and sounds are a symphony to lull the child to sleep. A comforting selection for evenings when wet weather puts a damper on outdoor exploration.

The Amazing Journey from Moss to Rain Forests: A Graphic Novel about Earth's Plants

By Steve Foxe. Art by Scott Jeralds. 2023. 32p. Gr. 3–5.
When a boy and his dog knock a leaf loose from a plant, the leaf (aptly named Leif), begins talking and gives them a quick historical tour of plants in this volume of the graphic Earth's Amazing Journey series (4 titles). Before delving into thematic chapters, the cartoonish Leif briefly describes basic plant traits and photosynthesis. Illustrations resembling animation, along with interspersed real-life plant scenes, combine with Leif 's joke-filled, conversational narration to make this book especially appealing to reluctant readers. —Angela Leeper

LOL 101: A Kid's Guide to Writing Jokes

By David Roth and Rinee Shah. Illus. by Rinee Shah. May 2023. 148p. Gr. 2–4.
What are aspiring young comedians to do when knock-knock and lightbulb jokes get stale? Write their own material, that's what—and here, Roth and Shah offer a set of examples, techniques, and templates designed to get the creative juices flowing. Fanciful cartoon figures add both sight gags and visual spritz to this handbook for would-be standups. —John Peters
---
Mostly Middle Readers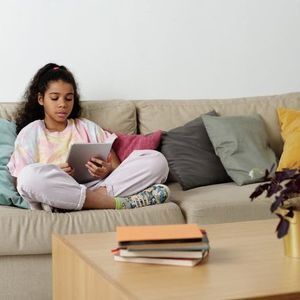 The Science of Breakable Things

By Tae Keller. 2018. 304p. Gr. 4–7.
Natalie is convinced that the prize money from winning a science-project contest could dispel her botanist mother's depression. How? By using the funds to fly Mom to New Mexico to see the Cobalt Blue Orchid. Keller crafts a winning story full of rich characters, heart, and action that balances the weighty subject of a child dealing with a parent's depression.

Parachute Kids

By Betty C. Tang. Art by the author. Apr. 2023. 288p. Gr. 4–9.
The term parachute kids refer to immigrant children who come to the U.S. while their parents stay behind in their home country. Inspired by New York Times best-selling illustrator Tang's own childhood experience, her latest graphic novel is about three siblings trying to make it on their own in America after their parents return to Taiwan. Tang tackles the emotional and logistical complexities that undocumented children face from the unique perspectives of three siblings ranging in age from 10 to 16. They find strength in each other and eventually discover the joys of their new home and its promise of a better future. Tang's artwork clearly conveys the emotions of each scene, and readers will find this story hard to put down. —Bobbie Peyton

What Is Fake News?

By A. R. Carser. 2023. 80p. illus. Gr. 6–10.
This resource, part of the Questions Explored series (5 titles), examines the rise of the phenomenon known as "fake news" and offers readers tools to navigate the murky waters of misinformation. An "At a Glance" bulleted list gives readers a quick overview of the book's main points before segueing into a narrative story about a student frustrated by the process of locating credible sources for a report. The four following chapters outline what exactly a fake news story is, how these stories affect our society and people today, and how to deal with misinformation. A solid choice for improving media literacy. —Aurora Dominguez
---
Teen & Young Adult (YA) Readers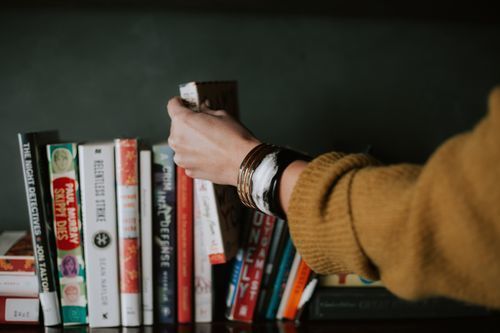 Braiding Sweetgrass for Young Adults: Indigenous Wisdom, Scientific Knowledge, and the Teachings of Plants

By Monique Gray Smith and Robin Wall Kimmerer. Illus. by Nicole Neidhardt. Nov. 2022. 304p.
Drawing from her experiences as an Indigenous scientist, botanist Robin Wall Kimmerer demonstrated how all living things--from strawberries and witch hazel to water lilies and lichen--provide us with gifts and lessons every day in her best-selling book Braiding Sweetgrass. Adapted for young adults by Monique Gray Smith, this new edition reinforces how wider ecological understanding stems from listening to the earth's oldest teachers: the plants around us. With informative sidebars, reflection questions, and art from illustrator Nicole Neidhardt, Braiding Sweetgrass for Young Adults brings Indigenous wisdom, scientific knowledge, and the lessons of plant life to a new generation.

Promposal

By RaeChell Garrett. Apr. 2023. 368p.
Garrett's debut is an adorable romp filled with funny and heartwarming moments. When high-school senior (and aspiring events planner) Autumn Reeves gets wait-listed at Mercer School of Business, she can't believe it. She'd already been chosen as a Mercer scholarship recipient—something she thought guaranteed admission to the school—but apparently, she was wrong. And then, as if that weren't enough, her boyfriend dumps her. This is not how she pictured her senior year going. What follows is a spirited story filled with sparkling banter and relatable ups and downs, including unexpected romance and pressures felt by many high schoolers. —Aurora Dominguez

Money Out Loud: All the Financial Stuff No One Taught Us

By Berna Anat. Illus. by Monique Sterling. Apr. 2023. 272p.
Anat, a first-generation Filipina American and a self-described financial activist, offers a comprehensive and very entertaining personal finance guide. Confronted with her own debt, she was ultimately able to save enough money to stop working and travel for a year; here she simplifies concepts, eschewing the typical financial advice in favor of a conversational tone. In addition to covering the basics (financial habits, aka "Your Money Story," as well as budgeting, bank accounts, savings, debt, credit, student loans, and investing), she explores topics not often mentioned in other finance books, such as the financial impact of systemic inequity that exists for Black and brown folks, advice for the undocumented, mutual aid funds, land tax, and socially responsible investing. —Sharon Rawlins

How to Be a (Young) Antiracist

By Nic Stone and Ibram X. Kendi. Jan. 2023. 208p.
Aimed at readers 12 and up, and co-authored by award-winning children's book author Nic Stone, How to be a (Young) Antiracist empowers teen readers to help create a more just society. Antiracism is a journey--and now young adults will have a map to carve their own path. Kendi and Stone have revised this work to provide anecdotes and data that speaks directly to the experiences and concerns of younger readers, encouraging them to think critically and build a more equitable world in doing so.

Long Way Down: The Graphic Novel

By Jason Reynolds. Illus. by Danica Novgorodoff. Feb. 2022. 208p.
An ode to put guns down, this is an electrifying novel that takes place in sixty potent seconds—the time it takes a kid to decide whether he's going to murder the guy who killed his brother.
---