Welcome to the pilot season of Teens Talk TV!
In partnership with Prince George's County Council Member and Chair Todd M. Turner (4th Council District), we are excited to present the pilot season of our new series, Teens Talk Television. Season One is a collection of five episodes on voting, social justice, mental health/self-care, managing money, and life after high school. 
Read more about the show and our co-hosts on our Teens Talk TV page. Each episode, listed below, can be viewed on our YouTube page and on the City of Bowie (Maryland) Public Access Channels 11 and 77.
---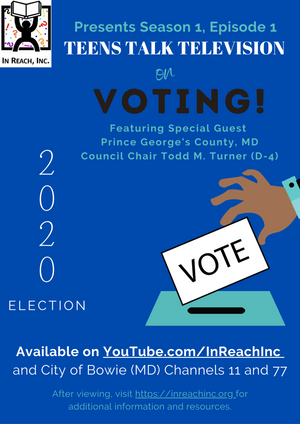 VOTING
Join the Honorable Todd M. Turner (4th Council District), Chair, Prince George's County, MD County Council, as he provides vital information on preparing for Election Day 2020 in Prince George's County, Maryland.
RESOURCES:
---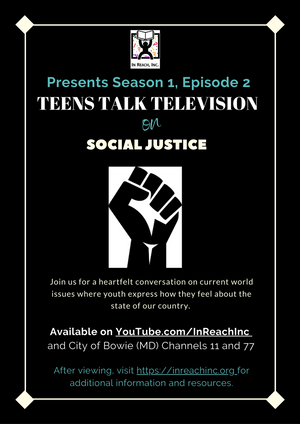 SOCIAL JUSTICE
This episode was recorded during the height of the Black Lives Matter protests. In Reach co-hosts were able to quickly assemble their peers to converse about the current state of race-related police injustices in the wake of the senseless deaths of George Floyd, Breonna Taylor, and countless others. Join guests Mira Donaldson, freshman, Spelman College; David Hill, sophomore, Harvard University; and Allyson Smith, sophomore, Howard University as they share their feelings and thoughts, and discuss how they are becoming social activists and supporting the Black Lives Matter Movement in their communities. 
RESOURCES:
---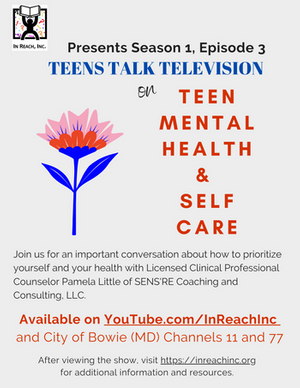 TEEN MENTAL HEALTH & SELF-CARE
Tune in for a few simple and useful strategies on managing your mental health and self-care from Ms. Pamela Little of SENS'RE 3 Coaching and Consulting, LLC. SENS'RE 3 is a grassroots company founded by Ms. Little in 2013 to support individuals and groups challenged with meeting personal and professional goals. Services are offered to elementary and middle school educators and parents. SENS'RE 3 also offers a Mindfulness Tool called the SENS'RE 3 Rein Stick to help individuals reduce anxiety, depression, and other mental health stressors. Visit the website, today to see how you can "Rein" in the Change! 
RESOURCES:
---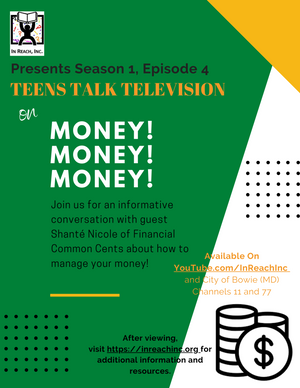 MANAGE YOUR MONEY 
Join us for this lively interview with guest Shante Nicole. Her passion for serving others has always been at the center of her life. She is an author, financial educator, certified credit consultant, holds a degree in nursing, and is the founder of nonprofit organizations F.A.C.E. (Facing Autism with Children Everywhere), and, her latest endeavor, Financial Common Cents. As if that doesn't keep her busy enough, she is also a wife and mother of a child with autism.
RESOURCES:
---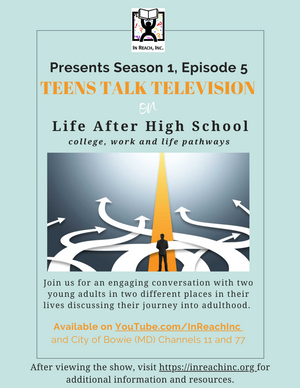 LIFE AFTER HIGH SCHOOL: College, Work & Life Pathways
The hosts talk to two young adults about their experiences after high school and college. Guests Ms. Jasmin Jackson and Mr. Brandon Speed provide insight into the various opportunities and choices they have made that have shaped their future and may serve as inspiration to yours.
Jasmin Jackson is a Biologist at the Environmental Protection Agency where she regulates various pesticide chemicals, products, and applications for registration and uses to the public. She received her education from Morgan State University with a bachelor's degree in Biology and Purdue University Global with a Master's in Public Health. Jasmin has worked in the Environmental Health sector for most of her post-graduate career and has gained ample experience and skills that have assisted in her professional success and growth.  When she isn't protecting the environment from harmful pesticides, she prides herself on being an adventurous home chef and enjoys working out and spending time with family and friends.    
Brandon Speed is an American Chemistry Society published author, National Award-Winning research presenter, and graduate of Morehouse College with a Bachelor of Science in chemistry. He has worked for Inova Health Systems, taught chemistry at Takoma Academy in Takoma Park, MD, and conducted multiple research internships at the University of Virginia, Eglin Air Force Base, Icahn School of Medicine at Mount Sinai, and Genentech. Currently, Brandon is a graduate student at Icahn School of Medicine at Mount Sinai in New York City pursuing a Masters' Degree in Biological Sciences with a focus in Systems Biomedicine.  
RESOURCES: