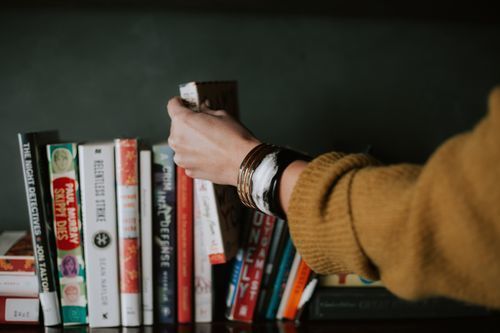 Women's History Month may have ended months ago but let's keep the momentum going to support, encourage and learn about female leaders, innovators, and trailblazers going all year long. From graphic novels and comics, middle-grade nonfiction to short stories, essays, and anthologies, women, and girls are making a difference. Read one or read them all. 
Salt to the Sea by Ruta Sepetys - Salt to the Sea is a 2016 historical fiction young adult novel by Ruta Sepetys. It tells the story of four individuals in World War II who make their way to the ill-fated MV Wilhelm Gustloff.
Women in Art: 50 Fearless Creatives Who Inspired the World by Rachel Ignotofsky - Women in Art highlights the achievements and stories of 50 notable women in the arts--from well-known figures like painters Frida Kahlo and Georgia O'Keefe, to lesser-known names like 19th-century African American quilter Harriet Powers and Hopi-Tewa ceramic artist Nampeyo. 
Nathan Hale's Hazardous Tales #5: The Underground Abductor by Nathan Hale - Meet Underground Railroad abductor Harriet Tubman in this installment of the New York Times bestselling graphic novel series!
Born Curious: 20 Girls Who Grew Up to Be AWESOME SCIENTISTS by Martha Freeman - The twenty groundbreaking women - including Rosalind Franklin, Marie Tharp, Shirley Anne Jackson, and more - came from all kinds of backgrounds and had all kinds of life experiences. Some grew up rich. Some grew up poor. Some were always the smartest kid in class. Some struggled to do well in school. But all had one thing in common: They were born curious.
Dreaming in Code: Ada Byron Lovelace, Computer Pioneer by Emily Arnold McCully - This illuminating biography reveals how the daughter of Lord Byron, Britain's most infamous Romantic poet, became the world's first computer programmer.
Finish the Fight! The Brave and Revolutionary Women Who Fought for the Right to Vote by Veronica Chambers - Who was at the forefront of women's right to vote? We know a few famous names, like Susan B. Anthony and Elizabeth Cady Stanton, but what about so many others from diverse backgrounds—black, Asian, Latinx, Native American, and more—who helped lead the fight for suffrage? 
Climate Action: What Happened and What We Can Do by Seymour Simon - Science expert Simon returns in this adept picture book, which centers on the causes and effects of the climate crisis, humankind's role, and the youth activism taking place during a time of unprecedented levels of climate change.
Lifting as we Climb: Black Women's Battle for the Ballot Box by Evette Dionne - Women of color, especially African American women, were fighting for their right to vote and to be treated as full, equal citizens of the United States. Their battlefront wasn't just about gender. African American women had to deal with white abolitionist-suffragists who drew the line at sharing power with their black sisters. They had to overcome deep, exclusionary racial prejudices that were rife in the American suffrage movement. And they had to maintain their dignity–and safety–in a society that tried to keep them in its bottom ranks.
Almost Astronauts: 13 Women Who Dared to Dream by Tanya Lee Stone - What does it take to be an astronaut? Excellence at flying, courage, intelligence, resistance to stress, top physical shape — any checklist would include these. But when America created NASA in 1958, there was another unspoken rule: you had to be a man. Here is the tale of thirteen women who proved that they were not only as tough as the toughest man but also brave enough to challenge the government. 
Claudette Colvin Refuses to Move: Courageous Kid of the Civil Rights Movement by Ebony Joy Wilkins - It's March 2, 1955, and an ordinary 15-year-old girl from Montgomery, Alabama is about to do something extraordinary. When a white bus driver orders Claudette Colvin to give up her seat for a white passenger, she refuses to move. After Claudette is arrested, her brave actions help inspire Civil Rights leaders to organize bus boycotts and perform similar acts to defy segregation laws. Eventually, Claudette's court case results in overturning Alabama's unconstitutional laws and provides greater freedom for black Americans everywhere.