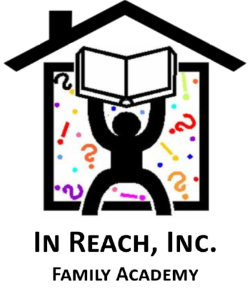 In Reach's Family Academy supports the needs and interests of parents, guardians and adults responsible for the well-being of a child by facilitating a range of empowering and meaningful learning opportunities using a variety of platforms: school-based, in the community, and on-line.
In Reach partners with an array of businesses, agencies and organizations such as the Department of Parks and Recreation, Prince George's Community Credit Union, and many others to offer CPR certification training; English language learning; health and wellness classes; parenting, job-readiness, and financial literacy skills; banking and credit repair; and paying for college.
While we primarily concentrate on families of our partner schools, county-wide opportunities may be available throughout the year. To receive updates about upcoming Family Academy opportunities, sign up for our email list.
The Family Academy Book Club
teaching families how to read together
Launched in October 2018, the Family Academy Book Club is available to families with children attending our partner elementary school, William Paca. During our pilot year, we are focusing on promoting the seven "essential life skills" that affect school readiness, school success, college graduation rates, work and life as featured in the best-selling book Mind in the Making: The Seven Essential Life Skills Every Child Needs by Ellen Galinsky. These skills are the kind that children just don't pick up; they have to be nurtured and are also known as Executive Function Life Skills, they are:

~Focus and self-control
~Perspective taking
~Communicating
~Making connections
~Critical thinking
~Taking on challenges
~Self-directed, engaged learning

Interested in supporting this initiative? Make a donation.